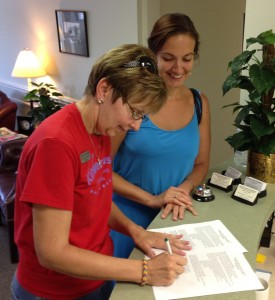 It's hard to believe it, but it's true. 15 years ago on this very day I became a licensed Kindermusik Educator. Now 15 years later, I have closed this chapter of my life! Today the ownership of my Palmyra Kindermusik location has been transferred to "Miss Kristen", one of the wonderful teachers in my program. I wish her all the best as she continues to bring music and movement to the lives of the children in our community.
I will continue to operate "Mother Goose Time Music", a program that I offer to children in the daycare setting which is taught by another wonderful teacher "Miss Andrea". The Jonestown and Linglestown studio class locations will now be using this new curriculum that Miss Andrea and I are developing. I will also continue to sell Barefoot Books.
Many thanks go to the wonderful teachers I have had in my program over the years and to the many parents who have supported me in my endeavors to help strengthen families through music.
I am grateful now for the opportunity to spend more time investing in the six amazing grandchildren our family has been blessed with and I look forward to getting back to one of my first loves – sewing!!!
There is a Bible verse that has been coming to me lately … it says "She did what she could." from Mark 14:8. This was also a favorite verse of the famous hymn writer Fanny Crosby. As I reflect on my life work so far, it reminds me that I wasn't able to do all that I would have liked to, or hoped to, but … I did what I could.
With a song in my heart,
Carol Anne