Welcome to the Baby Signs® Program !
You are invited to join the thousands of families who have already discovered the magic of this revolutionary new way to talk with babies before they can talk with you.
Babies have a lot to say, even before they can actually speak. With the Baby Signs® Program babies can let you know what they see, what they need and even how they feel. The Baby Signs® Program is the world's leading sign language program for hearing babies and is based on the ground breaking work of Drs. Linda Acredolo and Susan Goodwyn. Their research funded by the National Institutes of Health proved that children who used sign language as infants actually talked sooner, had a larger vocabulary and by the age of eight had a 12 point higher IQ. Dr. Acredolo and Dr. Goodwyn are the authors of the Baby Signs® book which has become the "bible" of infant sign language and has been translated into 14 languages.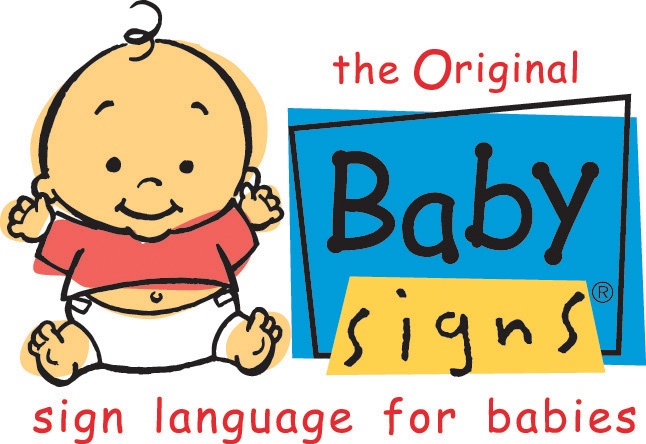 Proven Benefits of using the Baby Signs® Program:
- Reduces frustration and builds trust
- Allows babies to share their world
- Strengthens the parent/infant bond
- Reveals how smart babies really are
- Promotes positive emotional development
- Boosts babies' self confidence
- Helps babies learn to talk
- Jumpstarts intellectual development
The first video on the left is of my granddaughter Bethany signing at 18 months. We started using signs with her at 4 mos, she started signing back at 6 mos, really took off at 12 mos and by 18 mos had 50 signs and 20 words - the video says it all!
Baby Signs® Program Events, Classes & Workshops
Parent Workshop
This 90-minute Parent Workshop is specially designed for expectant parents, parents of children from birth to 24 months and will teach you all you need to know to begin using the Baby Signs® Program at home. Early childhood educators, parent educators, social workers and health specialists will also benefit greatly.

Click here for more information on how to attend the next workshop.
For more information on the Baby Signs® Program go to www.babysigns.com