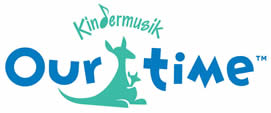 For toddlers and preschoolers 18 months to 3 yrs, this 45-minute weekly Kindermusik Our Time class encourages children to uncover an engaging musical world while building confidence, self-control, and communications skills. Singing, imitating sounds, rhyming, and object identification foster language skills, while creative movement to various musical "moods" develops a sense of balance, timing, and spatial awareness. Listening and turn-taking encourage blossoming social skills.
Our Time reflects the emotional foundations of school readiness and the latest research on music and early childhood development. Our Time is a unique opportunity for parent and child to interact and learn together in an unhurried and joyful manner.

Siblings are welcome!

Remember - birthdays and holidays are a great time to let grandparents, aunts and uncles know that your child would love to receive ...
The Gift That Lasts a Lifetime ... the gift of music. Kindermusik Gift Certificates are available!
---
AVAILABLE LOCATIONS: