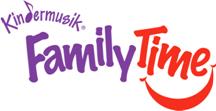 for children newborn to 4 years, a 45-minute weekly class perfect for families with more than one child or for families who prefer this time slot. Children will listen to instruments and to each other, learn from their peers and older children, and enjoy music and movement with hoops, scarves and tumble-around play. Story time and family jams, puppet play and happy singing—all the Family Time activities encourage discovery and exploration and foster sharing and social skills too. In this special place for musical, social and emotional learning, your children will strengthen their ties with each other and with you—and they'll start developing the skills they'll need in school and on the neighborhood playground.

Remember - with the Holidays here, NOW is a great time to let grandparents, aunts and uncles know that your child would love to receive ...
The Gift That Lasts a Lifetime ... the gift of music. Kindermusik Gift Certificates are available!
---
AVAILABLE LOCATIONS: