Introducing Our Staff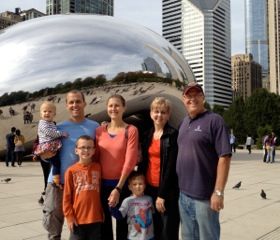 Carol Anne Friesen brings her love of children and families into all of her endeavors along with her 30 plus years of experience as an Early Childhood Educator. As a mother, pastor's wife, children's ministry coordinator and children's center director she has given her life to honoring God by promoting the value and worth of children and parenting.
Over the years she has worked with hundreds of families in the Children's Centers she has directed, in the Churches her husband has pastored, and in her piano studios, Kindermusik and Baby Signs classes.   Welcome Little Ones was created to be a source of inspiration and help in your parenting career.
Her husband Terry is the Pastor of Palmyra Brethren in Christ Church, Palmyra, PA and together they have two grown children and six grandchildren.
Carol Anne is pictured above with husband Terry and their son's family (with two grandsons and a granddaughter) and below is their daughter and her family (with two granddaughters & the newest grandson.)

Carol Anne's Endeavors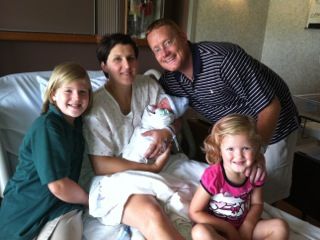 Kindermusik
I have been a licensed Kindermusik educator since 1998. Kindermusik is the world's premier music and movement program for children newborn to 7 years of age. It has been around for over 30 years and I am proud to be one of 5000 licensed educators worldwide. In 2003 I received the Kindermusik Maestro award recognizing my work in offering a truly expansive program to families. When I closed my Kindermusik business in Orlando before moving to Pennsylvania I had 100 families in my program.
Baby Signs® Program
I have been part of the Baby Signs® Program since the Beta-Test Phase in 2002. I am now a Baby Signs® Independent Certified Instructor. The Baby Signs® Program is the world's leading sign language program for babies. It's a wonderful way to talk to your baby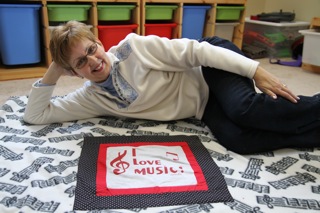 before your baby can talk! I offer workshops and classes to help parents learn about this latest movement in early childhood development.

We started using the Baby Signs® Program with my granddaughter Bethany at the age of 4 months and she began to sign back at about 8 months. At 12 months her "signing" vocabulary really took off and at the age of 18 months she was using about 40 signs and 20 words. You can see her signing "cat" on the Baby Signs® DVD - My Pets!
About Our Staff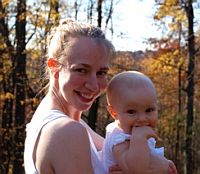 Diane Shearer has been enjoying playing with children and making music her whole life.  She earned a Bachelors of Music in Music Therapy degree from Marywood University in Scranton, PA, and began working in Behavioral Health and Rehabilitation.  Her love of music and fascination with child development found the perfect match with Kindermusik when she became a licensed Kidnermusik educator in 2004, teaching in Hummelstown, PA until closing her studio for her maternity leave in 2008. Diane's current work includes leading the Children's Choir, Children's Bell Choir, Adult Choir and Brass Choir in her church. She is also a first-time mom who is delighted to be singing along as her own Kindermusik kid blossoms.  Diane is excited to be returning to the Kindermusik classroom as part of "Kindermusik with Carol Anne Friesen".
---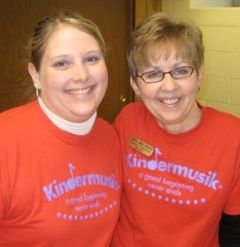 Andrea Wolfinger has been enjoying music all of her life! She grew up singing in chorus and playing the saxophone in many different bands. Andrea's love of teaching children led her to Millersville University, where she earned a Bachelor's Degree in Elementary Education. She has always known that music enriches the lives of children but when she enrolled her own daughters in Kindermusik, she had no idea how it would change all of their lives. Andrea has seen firsthand how Kindermusik has benefited her children and is thrilled to share the Kindermusik experience with others as she joins the very talented team of "Kindermusik with Carol Anne Friesen."
---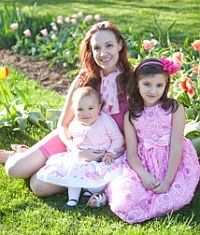 Kristen Miller developed a passion for music at a young age, when she began studying piano at age 4, voice at age 8, and flute at age 10. As school age student, Kristen also enjoyed singing and acting in plays and musicals, and participated in at least twenty productions. It seemed like a perfect fit for Kristen to combine her affinity for music with her love of children as a Preschool Teacher. Currently, Kristen is the director of the Children's Choir at Holy Spirit Catholic Church in Palmyra, and she has two young daughters.

In 2005, Kristen took her oldest daughter to their first Kindermusik class, and they enjoyed it very much. More recently, Kristen took her second daughter to "Kindermusik with Carol Anne Friesen".  It didn't take Kristen more than a class or two to realize she wanted very much to join the team of teachers in this high caliber program. Kristen feels that music nurtures the soul, and brings immense joy and pleasure to the world. She is hoping that through Kindermusik she can enhance the lives of many children and families.